From The Executive Director...
Welcome to CyberCil of Arizona, the first virtual Center for Independent Living!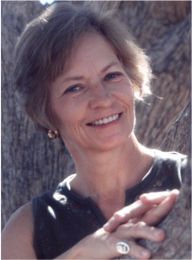 Our Executive Director

Judy Benshoof became a person with a disability in 1970. She has worked
at Arizona Bridge to Independent Living (ABIL) since 1990 as a field
representative in the Personal Assistant Services department, then as an
Independent living advocate, peer counselor, independent living skills
trainer and home modification coordinator in the Community Integration
department. Judy has also been involved with the development of CyberCil
since 2000 as a board member, the peer counselor and the interim
independent living skills trainer.
Judy is a graduate of Des Moines Area Community College, Arizona State
University and San Francisco State University. Her office is located in
Pinal County, AZ.
Our Services
If you have ever been to a traditional Center for Independent Living,
a lot of the features that you find in CyberCil will be familiar, and
the methods that we use to assist consumers are similar.

The primary difference is our location. CyberCil of Arizona exists
completely in cyberspace, enabling us to provide Independent Living
services to persons with disabilities throughout the state of Arizona
and the world. Our goal is to assist persons with disabilities to live
as independently as possible in their community.
You can let us know how we can assist you by completeing our
Consumer Information Tracking System. Your feedback will assist us
as we continue to develop our services, so if you have any
suggestions or ideas, feel free to contact me at jlbenshoof@cybercilofarizona.org
or you can complete our Consumer Satisfaction Survey online.
Our History
CyberCil of Arizona was the creation of advocates in 1998
who believed that isolated Arizonans with disabilities needed the
support of a center for independent living.
With the assistance of Independent Living Research
Utilization (ILRU) Program of Houston, CyberCil established
itself as a non-profit Arizona corporation in 2000 with a mission
to assist "Arizonans with disabilities so that they may
attain or continue an independent lifestyle." ILRU is a
national center for information, research, training and technical
assistance.
At about the same time, the Arizona Technology Access Project
(AzTAP) lent a hand by providing the in-kind support of their web
master. AzTAP, a project of the Institute for Human Development at
Northern Arizona University, educates Arizonans about assistive
technology and helps them secure equipment that will increase
their independence.
In 2002, the Arizona Governor's Statewide Independent Living
Council (SILC) began providing financial support to CyberCil. This
funding made it possible for us to reach out to all areas of Arizona,
collaborating with our sister centers in Phoenix, Tucson, Yuma, Tuba
City and Prescott Valley.
Today, we embark on a new adventure as we hire our first Executive
Director. With the increased support of the Arizona Statewide Independent
Living Council (AZ SILC), CyberCil becomes more and more of a reality.
We remain a virtual center, existing entirely in cyberspace, while providing
very real assistance to people with disabilities.